A group that's best in class with a common passion: Helping you succeed.
We are so much more than your typical accounting firm. Founded in 1964 by Ann Vine, who was one of the first female CPAs in Washington State, we have always embraced change and innovation. Our clients are never a number, they are a name, a face, a story, and we want to help them build a legacy.
Our team's strength comes from a combination of seasoned professionals working closely with recent graduates; leveraging the wisdom of experience while always looking to the future. This unique mix allows us to keep our firm small enough to form relationships with each client, while offering a full complement of resources and specialists for even the most complex accounting work.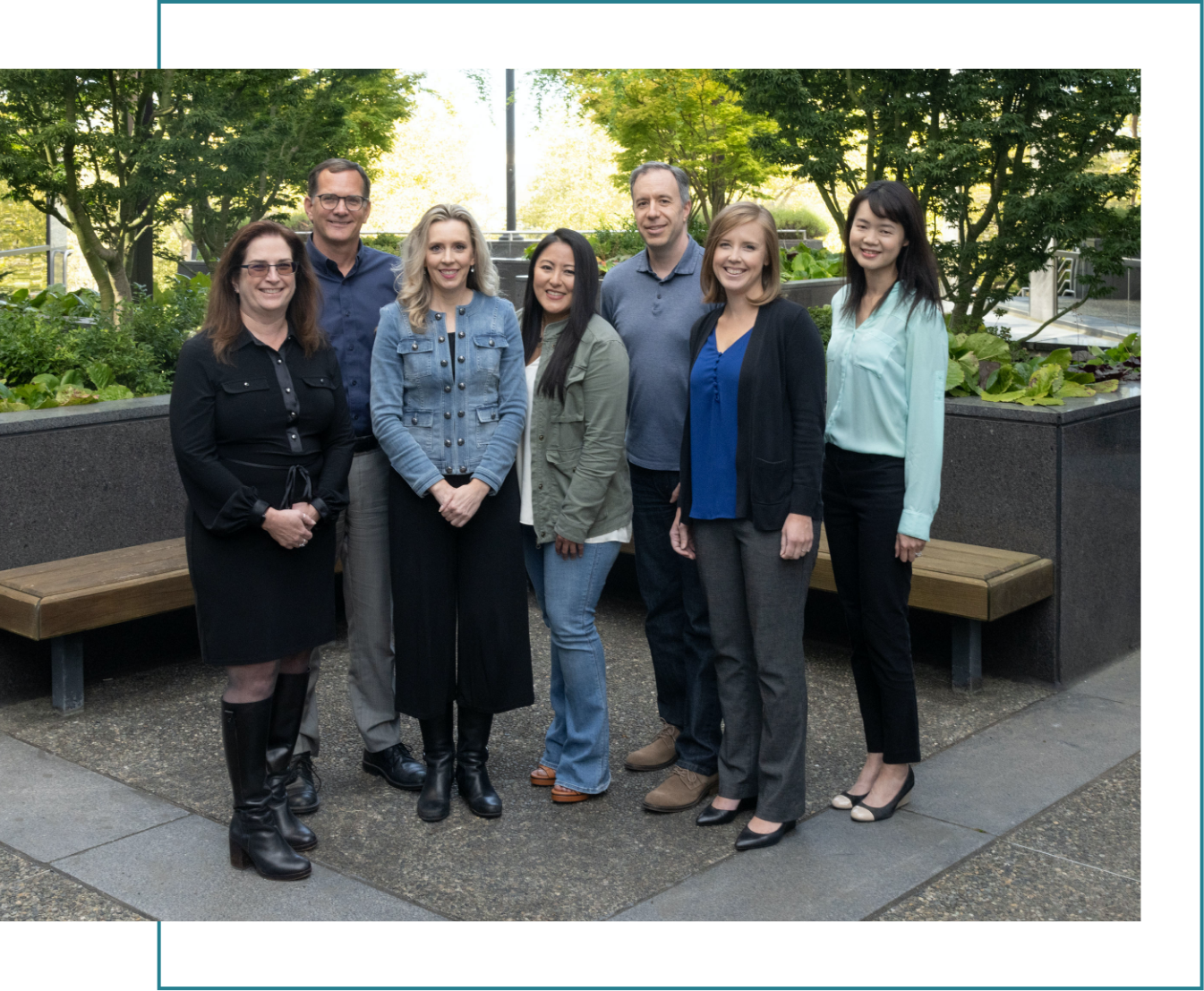 Heidi Cardin, CPA | Member
Education:
Central Washington University – Masters of Professional Accountancy

University of Phoenix – Bachelor of Science, Accounting
Heidi has almost 10 years of accounting experience at Vine Dahlen. As she moved from Staff Accountant to Partner, she learned that collaboration between all staff members is key. She loves interacting with her colleagues and clients, finding common ground and coming up with solutions together. She also enjoys passing all the knowledge and support she's gained from the Vine Dahlen mentorship program onto her clients as well as to new team members. She is a specialist in tax consulting, planning, and compliance for businesses and individuals. She enjoys working with companies who want to maximize their tax strategy by planning ahead.
She has a secret creative side and can often be found part-way through an art project at home. Her family is very active and always on the go – to the kids' soccer games, camping in their remodeled trailer, or snowboarding. They also take their dog Griffey along on their adventures when they can!
Education:
University of Washington – Bachelor of Arts, Business Administration: Accounting Concentration
University of Washington – Master of Professional Accounting: Taxation Concentration
Yu-Yun has spent her career at Vine Dahlen working with businesses and individuals of all sizes to find new and innovative ways to ensure that her client's tax burdens are optimized while staying compliant. In the ever-changing tax environment, she is passionate about keeping abreast of the latest information to look for new solutions and opportunities for her clients and her team. She enjoys working with businesses who value proactive tax planning.
In her free time, Yu-Yun loves to spend time in the outdoors, practicing yoga, and exploring nature with her family and young children. 
Elizabeth (Becky) Mackenstadt, CPA, CMA | Co-Managing Member
Education:
Central Washington University – Bachelor of Science in Accounting
Central Washington University – Bachelor of Science in Business Administration
Becky specializes in audit and accounting for closely-held and family-owned businesses and not-for-profit organizations. She uses a holistic approach that involves going beyond just the numbers to learn the ins and outs of each client, particularly not-for-profits, so they can focus on their mission of positively impacting the people and communities that they serve. After 25+ years of experience, she knows a sign of a job well done is when clients tell her they are sleeping better at night.
In her free time, Becky enjoys quiet and relaxing hobbies, such as walking, reading, scrapbooking, and creating thoughtful gifts.
Stacy Minnig, CPA, CFE | Co-Managing Member
Education:
Southern Oregon University – Bachelor of Arts in Accounting, Minor in German
Stacy has worked with Vine Dahlen for over 25 years building meaningful client relationships. She efficiently narrows in on effective adjustments needed in business operations to increase clients' efficiency and probability. With a specialty in audit, assurance, and business consulting, she enjoys examining companies on a deeper level, assessing their current structure, and discussing desired outcomes to help owners solve problems, achieve milestones and develop efficient financial reporting.
Stacy loves playing golf because it is the perfect mix of challenge and relaxing fun. She also loves active family outings like zip lining or high ropes obstacle courses. Travel and great food are something her and her husband enjoy. Ask her about strudel in Salzburg!
Scott Minnig, CPA, MPAcc(Tax) | Member
Education:
University of Washington – Bachelor of Arts in Business Administration: Accounting

University of Washington – Masters of Professional Accounting: Taxation Concentration
Scott has worked in public accounting for over 28 years. During that time, his clientele has grown, and the tax landscape has become more complicated. Scott's expertise serves domestic and foreign individuals and businesses including multistate. He specializes in tax consulting and preparation because he enjoys strategy. He sees taxes as a puzzle with many moving pieces and figures out how they best fit together. The more complicated the scenario, the more he enjoys making sense of it. Even the savviest business owners can find themselves seeking a trusted advisor to collaborate on a tax strategy that works for them.
Scott enjoys playing strategic board games with his family on game night. He loves adventure and has traveled to every continent except Antarctica and Australia. Both of which are on the bucket list.
Tom Over, CPA, CFP, PFS | Member
Education:
University of Notre Dame – Bachelor of Business Administration
As one of our most seasoned tax professionals, Tom knows there is always another way to look at every scenario. Tax and financial planning are his core specialties. He places a strong focus on client interaction and by doing so, he has found that having a greater understanding his clients and their businesses allows him to find more flexible solutions that add value to their lives. A key aspect for Tom is working with clients who are serious about building their net worth, yet are open to innovative and interesting ways of doing it.
Tom has a very active family and used to participate in triathlons; these days he settles for traveling the world with them. He also enjoys indulging his wine enthusiast side with new wines from various regions.
Jenni Wakida, CPA | Member
Education:
University of Washington – Bachelor of Arts in Business Administration: Accounting
Jenni's primary focus is on tax compliance and consulting, with a specialization in partnership, s-corporation and individual taxation. The industries she specializes in include real estate and professional service. She enjoys getting to know her clients on a personal level so she can understand what their business means to them, what their life and business dreams look like, and then creating a plan that moves them toward those goals.
Jenni absolutely loves all dogs; her home isn't complete unless there are at least a couple of furry family members. Her second full time job is supporting the life that both of her dogs, Zoe & Quinn, have become accustomed to. This includes frequent trips to the park, tons of treats, toys & snuggles.
Ben Altmaier, CPA | Senior Manager
Education:
University of Washington – Bachelor of Arts, Business Administration: Accounting and Finance concentrations
Ben has over 20 years of experience in accounting and finance. He supports his clients from planning to execution and provide ongoing support year-round. He is an expert in financial statement audits, reviews, and compilations including internal control testing, fieldwork, and report preparation. He also works on middle market mergers and acquisitions, providing buy side or sell side support to clients through quality of earnings report preparation. He most enjoys working with closely held businesses and not-for-profits especially helping clients with financial reporting; whether that is explaining new accounting concepts, or helping them improve and stream-line their internal controls or processes.
In his free time, he has become a newly developed Lego master, thanks to his two kids. They also spend as much time as possible camping together. Both kids play sports, and he loves being there for practices and games throughout the year.
Lori Scott, CPA | Senior Manager
Education:
Oregon State University – Bachelor of Science in Business Administration, Accounting Concentration
Lori has over 26 years of audit and assurance experience, specializing in not-for-profit organizations, independent schools, foundations, and government-funded entities, as well as Form 990 preparation for tax-exempt entities. She loves that everyday could be different, giving her a chance to learn something new, and then having the ability to share that knowledge and experience with her clients. Seeing a positive impact on her clients through the work she provides is the most rewarding aspect of the job. She loves being part of such a close-knit team and a company that values relationships is very important to her.
Lori LOVES Disney, in fact her entire family loves Disney – her house is decorated with Disney keepsakes, and they never get tired of vacations to Walt Disney World.